I'm doing a little cross promo for my fellow Oracle authors. Here's the blurb for Power ~ I know I've been buying all five stories the moment they hit the shelves.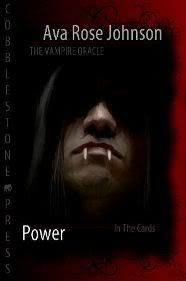 The Vampire Oracle: Power
by
Ava Rose Johnson
A Vampire's Promise Lasts Forever…
Jourdain has spent years tracking the Elemental Ruby to Chicago. Desperate to destroy the danger it could cause, he will do anything to find it, even deceive.
Bryanne, the ruby's owner, is fascinated by the stranger who rescued her from the hands of an attacker. Unaware of his motives, she responds to his sexual energy and welcomes him into her bed.
But when an enemy ups the stakes, Jourdain is forced to come clean. Should Bryanne trust Jourdain or run as fast as she can? One thing's for sure, the wrong decision could mean death.